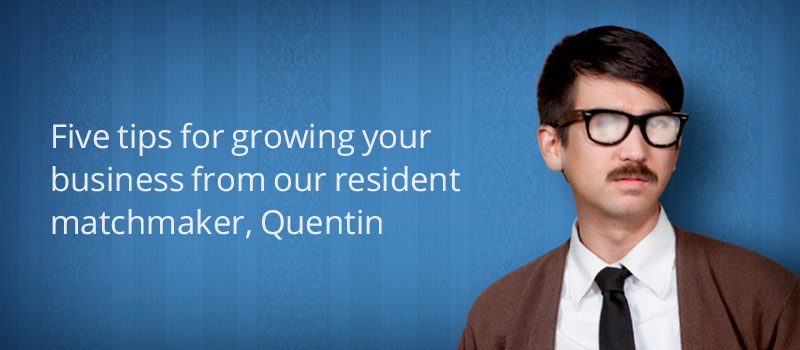 20 Mar

Five tips for growing your business from our resident matchmaker, Quentin
If there's one thing I love, it's navigating the intricacies of omni-channel payment processing. Fortunately for the ladies, there's no rule about having to love just one thing.
And at EVO Payments we're not just about packing more power into your ePOS and web commerce solutions – we're also keen on helping our partners get out there and grow their businesses.
With that in mind, here are a few tips you can use to sow your business oats far and wide.
1. Make sure you're set to seize opportunities
You never know when and where your ship might come in. That's why I always have a splash of Barbarian aftershave stashed in my man-bag should I suddenly need that little extra bit of appeal.
It's also why, with EVO Payments, once your software is integrated, it's integrated all over the world – so if an opportunity comes along in a new market, you can move in and seize it without delay.
---
2. Don't lose momentum
If you've ever had a romantic dinner à deux interrupted by your mother insisting that you take the bins out, you'll understand that when you lose momentum, it can be hard to get it back.
At EVO Payments we think onboarding new clients should be smooth. And to ensure it is, we have a fully automated process that covers everything needed to get merchants up and running and loving your solution without any hassle or hitches – meaning you can get profitable relationships blossoming right off the bat.
---
3. Own your relationships
A brilliant wingperson knows when to get out of the way. They need to be charming enough to reflect well on you, but without hogging the limelight for themselves.
That's why we've designed our subscription-based pricing to match your own, meaning you can present the whole package to merchants as a single cost through a single, branded bill. That keeps life simple for them and gives you ownership over the relationship – both of which are great for your brand. And there's no better way to win new customers than to please the ones you've already got.
---
4. Focus on mutual interests
Olga was focused on growing her porcelain doll collection, I was focused on not allowing my phobia of dolls to become a full-blown psychosis. In short, it didn't work out.
The lesson is, it's hard to grow together unless you centre things around your mutual interests. In business, this means working with someone who takes the time to sit down and plan how to take both businesses further. As an organisation with both a global reach and a local presence in the UK, this is an area we're especially proud to specialise in.
---
5. Find new sources of revenue
One of the best things about a relationship is being introduced to new things. And though I don't hear from Olga anymore, I still listen to the 'Now That's What I Call Yodelling' CD she left behind.
When it comes to business, we like to make sure we give back to partners who make rewarding introductions, so we've designed commercial models that can boost your bottom line when you bring us new customers.