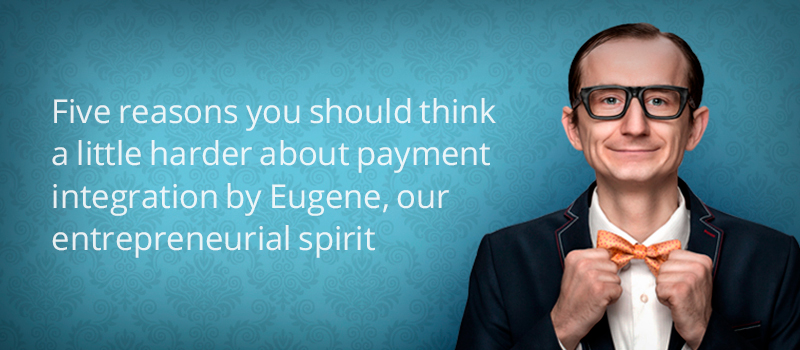 17 Mar

Five reasons you should think a little harder about payment integration by Eugene, our entrepreneurial spirit
Eugene likes to live right on the edge of the bleeding edge. He's also one of the few people to actually get a buzz out of buzzwords. But look beyond the jargon, you'll find a wealth of solid advice.
A friend and I were touching base at a best-in-breed restaurant specialising in hyper-agile cooking when the conversation turned to one of the ingredients in our Big Macs, namely the special sauce.
What's so special about it we wondered? In and of itself, nothing. Its power lies in the way it ties the other ingredients together while allowing each to shine. As such we decided that 'synergy sauce' would be a much better name. (Indeed, when we suggested it to the serving staff they were so impressed they seemed lost for a response, though I'm sure they'll have a lot to say about it at their next powwow).
At EVO Payments, we want to provide you with a big dollop of synergy sauce. We believe that payment processing should be the pièce de résistance of your solution – not an afterthought. Because the truth is, integrating it isn't all that easy. And while there's so much that can go right, when it goes wrong, it can present some unnecessary challenges… Here are some things you might want to think about.
1. Timeframes
In today's volatile, tech-enabled business landscape, things move quickly. The startup you read about over your morning chai latte has been purchased by Google before you sit down to your afternoon California rolls, and driven out of business by copycats before your 4pm power-snooze.
The irony is, sometimes technology slows us down. We're able to run a full integration in just a matter of weeks – which is significantly quicker than the competition – allowing you to cut your time to market and make sure nobody's beating you to the punch.
---
2. Compliance
Many entrepreneurs would argue nothing should stand in the way of a good idea. And for some of the most successful startups we've seen in recent years, that would include the law. But what works for a taxi app is unlikely to fly for a payments solution. In short, you need to make sure you're PCI compliant.
Whether it's online shopping cart capabilities or a counter top ePOS, we're always looking to make sure we can help streamline the process. For example, our Commerce Driver Software Development Kit (SDK) is pre-certified and supports a range of systems including iOS, Android and Windows. In conjunction with pre-approved hardware, this option can isolate payment data – keeping it out of your application and lowering your liability. Of course, if you want to use third party SDKs, that's no problem either. Which brings me on to my next point…
---
3. Supporting your needs
There are so many forms a payment solution can take that it's not enough to find a partner who has expertise in integrating processing capabilities – you need someone who has expertise integrating processing capabilities that also meet your specific requirements.
We have a wide range of integration models based on the ways developers work. Whether you need to support card present (CP) or card not present (CNP) options, whether you're offering web commerce services or hosted payment APIs, we've got the expertise to support you. And, if you're not exactly sure the best way to go, we can offer advice on the best payment options to make your solution truly valuable to your customers.
---
4. Adding value
Most people see payment processing as a 'must have' in the way that vitamin D is a 'must have' – as opposed to the way a Mac Book Pro is. If TED would just give me 15 minutes on that stage that might not be the case, but for now, alas, it is.
The thing is, just because something's necessary that doesn't mean it can't be awesome. And while a painless integration makes life easier for you, a brilliant integration makes life easier for your end customers.
That's the thinking behind our Merchant Management Centre, a feature that allows any retailer using an EVO Payments integrated system to track sales, manage orders, process returns and much more – allowing you to offer extra value at no extra cost.
---
5. Taking things further
Integrating payment processing, fun as it is, is probably something you're only going to want to do once. Taking your solution into new territories and growing your business, on the other hand, is not.
Once your solution is integrated with EVO Payments, it's integrated worldwide. When new opportunities arise you can respond rapidly. Which is very useful if, moving forward, you plan on moving forward.